Welcome
To The Yorkshire Lancashire & Cheshire Border Terrier Club.

Entries Close on Saturday 27th August 2016 for the Club Championship Show
(See the SHOW Section for the Show Schedule)
Give a Dog a Genome 2016
All seven Border Terrier Clubs have joined together to answer the Animal Health Trust's call for breeds to join them in their quest to "Give a Dog a Genome." For details of this scheme, see the Frequently Asked Questions at: http://www.aht.org.uk/skins/Default/pdfs/Give_a_Dog_a_Genome_FAQs.pdf
The seven Border Terrier Clubs have jointly funded the £1,000 required to have one of our breed included in the genome sequencing.
The Kennel Club Charitable Trust has pledged another £1,000 towards the £2,000 cost to have the sequencing carried out for each of the first 50 breeds that sign up to this, so the KCCT will be donating £50,000 in total this year towards the scheme.
Our Joint Clubs' cheque for £1,000 has been sent to the Animal Health Trust and receipt of it has been acknowledged; the breed is listed at number 5 on the list of participating breeds:
http://www.aht.org.uk/cms-display/genetics_gdg_participating_breeds.html
2015 Message from Club President
A MESSAGE FROM THE PRESIDENT
I can't believe how quickly the years have gone.
I have seen the breed go from strength to strength over the years.
We have moved to different venues over the years but are now pretty stable at Longridge Preston for the Championship Show— Chosen for geographical reasons,being the central for England and Scotland.
We are now entering a new era with a new secretary and a new treasurer. I'm sure they will give the club 100%
I have always had the club at heart.
Brian Baxter (President)
`````````````````
2015 Message
I got my first Border Terrier in 1983. I went to a local match meet which was run by Gordon and Cyn, we had been good friends until they passed away.
They introduced me to the Y.L.C.B.T.C. I showed my first border in 1984 at Skipton Ch.Show. I joined the committee in 1990 and took over from Gordon in 2012 as Chairman. I will do my best to follow in Gordon's footsteps and keep the club going forward.
We have good officers and committee who work hard for the Y.L.C.B.T.C (Thankyou)
Hope all of our members and exhibitors enjoy our Diamond Jubilee Ch.Show .
Good Luck, Kevin Green (Chairman)
Diamond Jubilee Championship Show
at Longridge Civic Hall, Preston PR3 3HU
on Saturday 26th September 2015
J
udge: Mrs Kathy Wilkinson (Otterkin)
(Full Show Results in the Show Section.)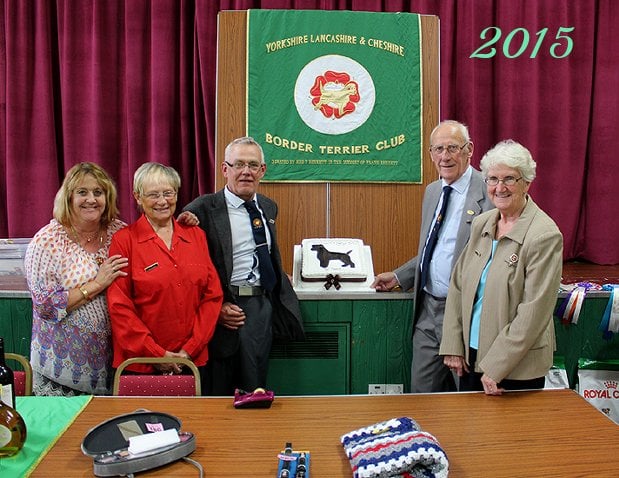 Left to right - Tina Green, Ann Heathcote, Kevin Green, Brian & Pat Baxter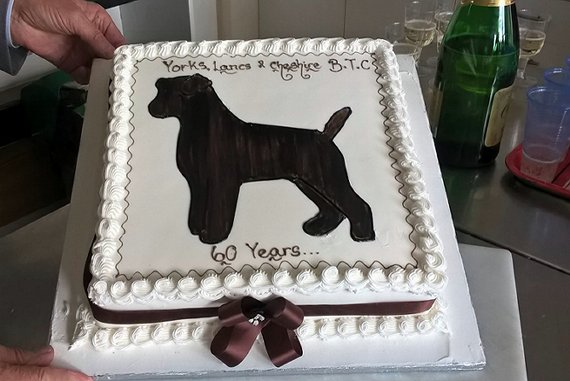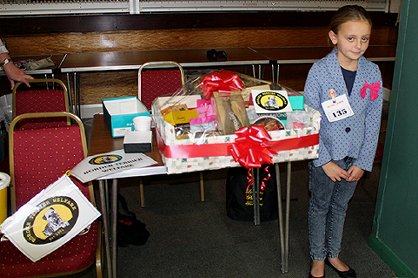 The Yorkshire ,Lancashire & Cheshire Border Terrier Club was founded and registered with the Kennel Club in 1955. It began with a group of Border Terrier enthusiasts getting together and deciding to form a breed club within the area of Yorkshire Lancashire and Cheshire.
The Club currently runs 3 Shows per year. Where enthusiasts of Border Terriers are made very Welcome
To contact the Acting Secretary Mrs Tina Green
************************